Speedliner® 1000 Hopper Gun Spray System
MATERIAL
Speedliner® 1000
APPLICATIONS
Truck Bedliners, Trailers, Boat Decks, Rocker Panels, Stairs, Walkways, Floors, Farm Equipment, Tool Boxes, Truck Accessories, Jeep (Interior and Exterior), Speaker boxes, and more.
COMPRESSOR
Minimum 3 HP (230 V, 1 phase) 2 cylinder with 60-gallon tank capable of 11.3 CFM @ 90 psi to be used exclusively for equipment only. Automatic drain is highly recommended.
Minimum 5 HP with 80-gallon tank may be necessary if others in the shop will be using air tools simultaneously.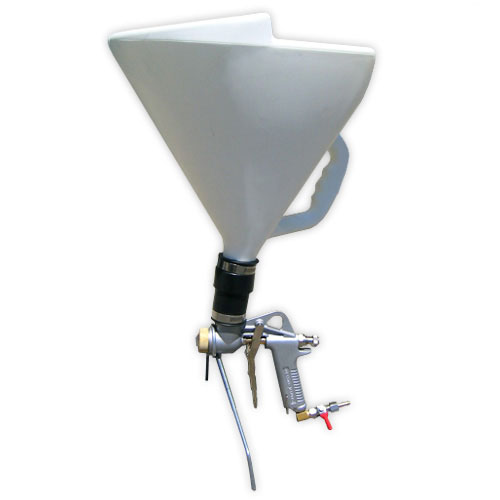 REFRIGERANT DRYER
The spray air needs to be less than 5% relative humidity as it leaves the gun.
A 3-in-1 refrigerant dryer for your compressor is mandatory.
Air membrane dryer is mandatory.
APPLICATION AREA – for truck bedliners only
One truck: 16ft wide x 16ft deep x 11ft high (minimum)
Two trucks: 24ft wide x 18ft deep x 11ft high (minimum)
Fluorescent lighting
Tar paper on floor with duct tape
Polyethylene curtains capable of completely enclosing spray area (NFPA 701 compliant)
Ventilation fans must exhaust air 2-3 times per minute. Forced makeup air will be required. Heated air will be needed in colder climates. Note: To determine the CFM of exhaust fan, take total volume of the room and double that number. 3,000 cu ft room will require 6,000 cu ft fan.