Speedliner® Liners and Coatings
Speedliner® products have been used for over 25 years as a spray in bed liner for truck beds. We have developed different variations of this spray on truck bed coating to improve its chemical resistance to grease, oil, alkali, chlorine, and various other chemicals and to lend itself to many other applications.
With spray liner additives such as Kevlar to improve the strength of this spray on coating, we have kept the flexibility and abrasion resistance our customers have come to expect when using this product in regular bed liners to heavy industrial equipment or other applications. We have special primers developed to promote the adhesion of Speedliner® on other surfaces such prepared metals, fiberglass, and wood.
The benefits of choosing Speedliner® spray in bed liners are many.
Speedliner® Spray in Bed Liner Advantages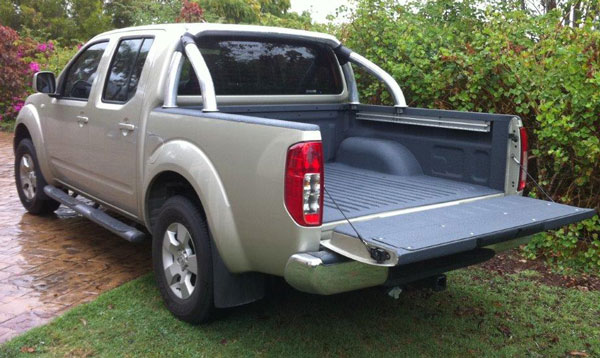 Unparalleled Strength
Speedliner® 1000 is the world's toughest spray-on bed liner. Independent laboratory tests show Speedliner® to be 80% stronger than competitors' spray-in bedliners. Your truck bed can withstand nearly twice the abuse of other spray on bed liners. Ask our competitors for their independent results and compare! (see our test results here)
Maximum UV Protection
Speedliner® offers the most UV protection available of any other competing spray on bed liner. Your new bed liner will keep its quality color over time and not fade or "chalk" like other liners. Chalking is caused by weathering in inferior products.
Quality Automotive Colors
Choose from a variety of high performance automotive spray in bedliner colors to match or complement the color of your truck. Pick one of our 22 standard colors:
Custom colors – since Speedliner® spray-on bedliners can be mixed with standard automotive color tints, any color is possible!
Protect From Corrosion
The airtight fit permanently seals and guards your truck bed from dirt, water and chemicals that cause rust and corrosion. Other spray-in bedliners do not provide protection like Speedliner®.
Quieter Ride
Speedliner® spray-in bedliner quiets rattles and squeaks by dampening vibrations originating from the bed of the truck. This dampening gives the driver and passengers a quieter ride.
Non-Slip Surface
Speedliner® spray-on bedliner keeps your cargo from slipping and sliding. You'll have the peace and satisfaction of knowing the non-slip surface that Speedliner® provides will prevent damage to both your truck bed and its cargo.
Specialty Enhancers
Sometimes special circumstances require extreme solutions. Speedliner® spray in bed liners can boost certain physical properties, such as non-skid or tear strength, by adding special enhancers.
Multitude of Applications
Speedliner® spray on liners can be used in a variety of applications. Here's a short list of recommended uses:
Truck Bed Liners
Boat Decks
Rocker Panels
Livestock Trailers
Jeep Floors
Utility Trucks
Hunting Vehicles
Salt Trucks
Fire Trucks
Airport Baggage Tractors & Trailers
Custom Audio Speaker Cabinets
Not sure if Speedliner® is right for your special needs? Call us! 800-766-3832
Speedliner® Series
High performance urethane elastomeric coating designed for high build applications. We now have four formulations to choose from (see chart below). When fully cured Speedliner® forms a tough, abrasive resistant rubber coating, suited for applications requiring protection from impact, abrasion or corrosion on metal, wood or concrete surfaces. Texture provides an excellent non-slip surface. Used as a spray in bed liner for the automotive industry for over twenty five years, it can also be used for water proofing boats and marine applications, as well as improving safety in industrial applications with its excellent non skid and non slip properties. Additives include kevlar® fiber for added cut and tear resistance, sand, or aluminum oxide grit may be added to achieve additional non-skid properties. Many colors available from our SL pigment series. We also have a specially formulated version for acid and alkali resistant or higher abrasion applications. All Speedliner products are easy to apply with a standard hopper gun. Hardness 90-95.
*Kevlar is a registered trademark of the EI Dupont Corporation.
Speedliner® 1000
Speedliner® CRX
Speedliner® Epic
Speedliner® 1000 Low VOC
All of our products have multiple uses or may be customized to your particular applications.