Speedliner®
Manufactured by Industrial Polymers
Accept no Substitutes!
*Sold in the UK as IP1000
Spray in Bedliner products from Speedliner® are the best in the industry! Speedliner® offers the most durable spray in bedliner in the world. Our spray-in bed liners are durable and dependable and come in a variety of colors and applications.
Speedliner® spray-on bedliner products are rated for superior performance and have undergone the scrutiny of intense testing for resistance to heat and UV wear that will often fade inferior products. The benefits of choosing Speedliner® spray in bed liners are many.
Spray-in Bedliner Advantages
Unparralled Strength
Maximum UV Protection
Quality Automotive Colors
Protects From Corrosion
Quieter Ride
Non-Slip Surface
Speciality Enhancers
Multitude of Applications
Interested in becoming a Speedliner® Dealer?
Already a Speedliner® Dealer?
Liner Repairs
Recondition And Repair Any Professionally Installed Urethane Or Polyurea Liner!
Repair or recoat any professionally sprayed-in bed liner with Speedliner® and reinforce your truck bed's durability to withstand nearly twice the wear and tear of other bed liners.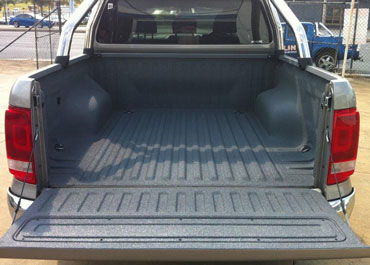 Spray in Bedliner
Applications Include:
Speedliner®: Most Trusted
The Most Trusted Name in Paint & Surface Protection
Unparalleled Strength
Speedliner® is the world's toughest spray-on bed liner. Independent laboratory tests show Speedliner® to be 80% stronger than competitors' spray-in bedliners. Your truck bed can withstand nearly twice the abuse of other spray on bed liners. Ask our competitors for their independent results and compare!
World-Class Manufacturing
Speedliner® is manufactured by Industrial Polymers Corporation, a leader in the protective coatings industry. The company is recognized as a research leader in the worldwide protective coatings industry, and holds numerous patents for polyurethane compound production processes.